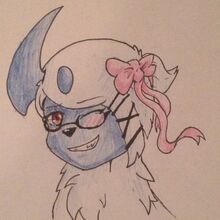 Appearance
Edit
Crimson is a Sixteen-Year-Old female Absol. Her hair is noticeably shorter than that of an average Absol's, and she often wears a pink bow and has her hair in a ponytail. Additionally, she wears glasses and has clips in her hair to keep it in place.
Personality
Edit
TBA
Relationships
Edit
TBA
Crimson seems to be mentioned in the prophecy about Verum in the line 'The blood red hero', also translated as 'The crimson hero' or 'The scarlet hero'.
Ad blocker interference detected!
Wikia is a free-to-use site that makes money from advertising. We have a modified experience for viewers using ad blockers

Wikia is not accessible if you've made further modifications. Remove the custom ad blocker rule(s) and the page will load as expected.